The 2012 Conference on New York State History
Conference Schedule
(Please note changes in Thursday and Friday evening schedules)
Thursday, June 14
9:00am–2:00pm: Workshop
Navigating the Challenges of Interpreting History
(advance registration required)
Sponsored by Museumwise
Stephanie Rowe, coordinator
Cindy Boyer, Landmark Society of Western New York
Lenora Henson, Theodore Roosevelt Inaugural National Historic Site
Tara Lyons, Buffalo and Erie County Historical Society
Interpretation is at the heart of what we do as historians and history organizations, but how often do we think about changing our interpretation? Or about interpreting recent history? This interactive workshop will offer strategies and resources for navigating the challenges of interpreting history and will provide case studies of exemplary projects involving major interpretive change and interpreting recent history.
This workshop has been developed by Museumwise, a non-profit service organization that works with museums and historical societies in New York State, and is supported by the Erie Canalway National Heritage Corridor. The Erie Canalway National Heritage Corridor Commission and staff collaborate with communities and organizations to preserve and interpret our heritage, invite visitors to explore what makes us unique, and ensure a vibrant future for the 2.7 million New Yorkers who call the Erie Canalway home.
2:15pm-3:45pm: Concurrent Sessions
101 War of 1812: Local History
Susan L. Conklin, Genesee County Historian
Catherine L. Emerson, Niagara County Historian
Kathy Sheehan, Rensselaer County Historical Society
Chair: Robert Weible, State Historian
102 Corrections
Medical Violence: Electrotherapeutics, the Electric Chair, and Electric Shock Treatment in New York, 1890–1950
Markus Hedrich, University of Cologne
Race, Revolution, and Rockefeller
Elizabeth Nerland, Cooperstown Graduate Program
Comment: Thomas C. McCarthy, New York Correction History Society
103 Source Materials
Building a Data File of Secondary New York Political Figures, 1815–28
Mary and Craig Hanyan, Brock University
Social Security's Detailed Employment Earnings Statements
Irwin Gordon, Independent Scholar
The Hart Island Project: Twenty Years Later
Melinda Hunt, The Hart Island Project
Comment: James Folts, New York State Archives
4:00pm-5:00pm: Concurrent Sessions
201 Individual Papers
Murder Inc. and the Moral Life
Robert W. Whalen, Queens University Charlotte
Drilling the Empire State
Tom Wilber, Journalist
Comment: William Siener, Independent Scholar
202 Simple Tricks to Turn Your PowerPoint from Dreary to Dazzling
Michael Miscione, Manhattan Borough Historian
203 Is There a Distinctive Form of Great Lakes Humor? The Western New York Perspective
Raymond C. Vaughan, Environmental Scientist
Rebecca Newberry, Independent Scholar
5:00-5:45pm: Travel to Old Fort Niagara
5:45-7:15pm: Dinner & Program at Old Fort Niagara
"Of Dartmoor Prison, I'll Tell All I Can": The War of 1812 Prison Songs of Thomas B. Mott
Paul Mercer, New York State Library
Dinner cost: $20
Catered by Bandana's Bar and Grill: includes roast beef with rolls, pasta in sauce, chicken wings, dinner salad, beverages, and dessert.
7:15pm-8:00pm: Travel to Niagara University
8:00pm: Keynote Lecture (rescheduled from Friday)
The Civil War of 1812 in the Niagara Valley
Alan Taylor, University of California, Davis
Friday, June 15
8:00am–6:00pm: Registration
8:00am–6:00pm: Exhibit Hall
8:15am-9:00am: Plenary session
New York Rising: The Transformation of the 'New' New-York Historical Society
Valerie Paley, The New-York Historical Society
9:00am-10:30am: Concurrent sessions
301 War of 1812: Niagara Campaigns: The War of 1812 Along the Border
Douglas W. DeCroix, Western New York Heritage Press
John Grodzinski, Royal Military College of Canada
Richard W. Barbuto, U.S. Army Command and General Staff College
Moderator: Douglas W. Kohler, Erie County Historian
302 New York City
Grappling with the Grid: Andrew H. Green's Plan for Northern Manhattan
Michael Miscione, Manhattan Borough Historian
Vernon H. Bailey's Sketches of New York, 1934–36
Janet Butler Munch, Lehman College, CUNY
Spaces of Poverty: The "Congestion Exhibit" and the Lower East Side, 1907–11
Rebecca Amato, The Graduate Center, CUNY
Comment: David Schuyler, Franklin and Marshall College
303 Magazine Writing for Historians of New York State (Panel)
Michael J. McGandy, Cornell University Press
Judy Hohmann, New York Archives magazine
John Warren, Adirondack Almanac
Elizabeth Licata, Buffalo Spree
Charity Vogel, Buffalo News
304 Panel: Re-collecting the Depression & New Deal as a Civic Resource in Hard Times
Anne Conable, Buffalo and Erie County Public Library
Michael Frisch, University at Buffalo
Peggy Millron, Independent Researcher
10:30am – 11:00am: Break
10:30am-11:30am
Magazine Pitch Session (in Exhibit Hall)
Researchers and authors are invited to pitch article ideas to magazine editors representing New
York Archives, Buffalo Spree, New York History, and Adirondack Almanack. Come by the book
exhibit area and make a 10-minute presentation and share a short written summary for the
editor to take with him or her.
11:00am –12:30pm: Concurrent sessions
401 War of 1812: Battle of Plattsburgh
The Battle of Plattsburgh
Keith A. Herkalo, The Battle of Plattsburgh Association
Remembering and Forgetting the Battle of Lake Champlain
Daniel Hicks, Ashford University
Comment: Jim Hill, Niagara Parks Ontario
402 Upstate/Downstate: Dimensions of a Problematic Dichotomy (Panel)
Presented by the New York Academy of History
The Origins of Upstate New York: Perceptions and Misperceptions
Peter Eisenstadt, Independent Scholar
Seeing (and Hearing) Portraits of Deindustrialization: The Limits and Uses of a Downstate Filter
Michael Frisch, University at Buffalo
Beyond Nueva York: Activists and Networking in Latino Communities
Virginia Sanchez-Korrol, Brooklyn College, CUNY (emerita)
Moderator: David Schuyler, Franklin and Marshall College
403 Rural Landscapes
Barns for Fruit: Exploring the Agricultural Landscape to Understand Regional Crop Production
Cynthia G. Falk, Cooperstown Graduate Program
Documenting a Farm in the Holland Land Purchase
Jessie Ravage, Independent Scholar
Reading a Building, Opening a Frontier: The Andrew Mann Inn, Unadilla
Anna Blinn Cole, Birchwood Archaelogical Services
Comment: Gayle Ann Livecchia, Fairleigh Dickinson University
404 Canals
The Overemphasized Erie Canal? Debunking Some Myths of Clinton's Ditch
Michael T. Wheeler, Independent Scholar
The Tontine Coffee House and the Corporate Culture of the D&H Canal
Stephen Skye, Neversink Valley Museum of History and Innovation
Flipping a Whig: A Reconsideration of Micah Brooks in Western New York History
Jacalyn Eddy, SUNY Geneseo
Comment: Nicholas Westbrook, Independent Scholar
12:30pm–2:00pm: Lunch Speaker:
"New York and the War of 1812 in Twelve Minutes"
Debbie Stack, Director of Interpretive Education, WCNY Lunch cost: $17
2:00pm–3:30pm: Concurrent sessions
501 War of 1812: Cultural Tourism Panel
Community Volunteerism: Lewiston's 1812 Events
Leo Simonson, Lewiston 1812 Bicentennial
Building a Successful Heritage Community
Constance Brennan Barone, Sackets Harbor Battlefield S.H.S.
Binational Heritage Tourism
Brian Merrett, 1812 Legacy Council
Battle of Plattsburgh Commemoration
Gary VanCour, Battle of Plattsburgh Commemoration Commission
502 Civil Rights I
African American Staff in the New York Public Library
Robert Sink, Retired Archivist
Civilian Conservation Corps Camp in Panama, Chautauqua County
Pamela A. Brown, Village of Panama Historian
The Albion Tourgee Collection: Reconstruction and Equal Rights
Michelle Henry, Chautauqua County Historian
Comment: Michael Boston, SUNY Brockport
503 Colonial and Revolutionary New York
"It Was an Awful Time": Civilians in the Saratoga Campaign
Michael P. Gabriel, Kutztown University
Kinship as Predictor of Loyalty and Postwar Migration in Warrensbush
Gayle Ann Livecchia, Fairleigh Dickinson University
"A Scattered People": Innovative Seneca Responses to New Markets and New Neighbors, 1630–1750
Kelly Hopkins, University of Houston
Comment: Edward Knoblauch, Albany College of Pharmacy
504 Women's Economic Independence
Young Rural Women's Search for Independence in the Early 20th Century
Grey Osterud, Independent Scholar
Female Slave Ship Owners: On the Periphery of Empire and Morality
Maria Vann, New York State Historical Association
Behind a Transforming Mission: Declining Numbers of the Sisters of Charity of New York
Daniel Opler, College of Mount Saint Vincent
Comment: Lauren Kozekiewicz, University at Albany
3:30pm-4:00pm Break
4:00-5:30 Concurrent sessions
601 War of 1812: Defeats and Lessons from 1812
Lambs Prepared for Slaughter: Gen. Winfield Scott's Camp of Instruction
Michael S. McGurty, New Windsor Cantonment S.H.S.
Gen. William Wadsworth: A Pariah Patriot
David W. Parish, Geneseo Town and Village Historian
The Burning of Sodus Point: Atrocity in the Eye of the Beholder
Scott Monje, Encyclopedia Americana
Moderator: Harvey Strum, Sage College of Albany
602 Family Histories
Paying for Conflicted Loyalties: A Two-Generation Family Saga
Nicholas Westbrook, Independent Scholar
Remembering Dr. Susan: Genealogy Meets Historical Record
Jennifer Scott, Weeksville Heritage Center
From the Niagara Frontier to the Canadian Prairie and Back
Paul Reese, Independent Scholar
Comment: Field Horne, Conference Chair
603 Unions, Labor, and Radicalism
The Rise and Fall of Trade Unions in New York's Paper Industry
Stephen Cernek, Daniel Webster College
Buffalo's Labor Movement in the 1890s: Boris and Anna Reinstein
Andrew Kier Wise and Penny Messinger, Daemen College
Bolshevism and Conservationism: Memorializing Theodore Roosevelt
William S. Walker, Cooperstown Graduate Program
Comment: Daniel Opler, College of Mount Saint Vincent
604 Religion and Politics
The Cultural Politics of Institution Building in Pre-Revolutionary New York City
Michael D. Hattem, Yale University
A Spirit of Fanaticism: Anti-Revivalism and Religious Opposition in Antebellum New York
Paul J. Zwirecky, University of Buffalo
The Other Moses: Moses Pierce and the Underground Railroad in New York
Dorothee von Huene Greenberg, Pace University
Comment: Judith Wellman, SUNY Oswego
Saturday, June 16
8:00am–11:00am Registration and Exhibition Hall open
8:30am–10:00am: Concurrent Sessions
701 War of 1812: Individual Agency in 1812
George Holcomb's War: Draft Evasion and the War of 1812
Jennifer Dorsey, Siena College
Eleazer Williams and the War of 1812
Michael L. Oberg, SUNY Geneseo
Comment: Nicholas Westbrook, Independent Scholar
702 The United Nations on the Niagara Frontier
Civic Internationalism: The Niagara Frontier's UN Dream
Perry Beardsley, SUNY Fredonia
World Capital for Peace: The Campaign to Headquarter the UN in the Niagara Borderlands
William H. Siener, Independent Scholar
Comment: Robert G. Kane, Niagara University
703 Elections and Politics
Saving Mr. Tompkins' War: From Reluctant Warriors to Warhawks in the 1814–15 Elections
Harvey Strum, Sage College of Albany
Rochester and the Presidential Election of 2008
Christine L. Ridarsky, Rochester City Historian
Comment: Jacob Ludes, NEASC (emeritus)
704 Reform
New York's Children: Family Survival and Custody in 19th Century Orphan Asylums
Sarah Mulhall Adelman, Framingham State University
The Craig Colony for Epileptics
Thomas A. Roffe, Town of Leicester Historian
Comment: Amie Alden, Livingston County Historian
10:00am – 10:30am: Break
10:30am–12:00am: Concurrent Sessions
801 War of 1812: Education Strategies (Panel)
1812 in Middle School Classrooms'
Douglas W. Kohler, Erie County Historian/Clarence Central Schools
Teacher Resources for WWED's 1812 Documentary
John Craig, WWED
Border Crossings: The War of 1812 Via Mobile Phones
Kathleen Hulser, New School, Eugene Lang College and Steve Bull, Cutlass, Inc.
Chair: Lawrence Paska, New York State Education Department
802 The Reformative Power of Women's Leisure (Panel)
Summer School for the Soul: Women at the Catholic Summer School of America
Monica L. Mercado, University of Chicago
Girl Guests and The Spirit of God in Woman: Retreat and Reform at Wiawaka Holiday House, Lake George, New York
Megan E. Springate,. University of Maryland
Appropriating Sherry's: Gotham, Space, and the Early Suffrage Movement
Lauren Santangelo, Graduate Center, CUNY
Moderator: Nikki Mandell, University of Wisconsin, Whitewater
803 Robert Moses
Fresh Kills: A Dump by Any Other Name…Would Still Not Smell as Sweet
Melissa Zavala, Graduate Center, CUNY
Moses and the Public Good: The Niagara Power Project and Parkway in a Global Age
Kenneth S. Mernitz, Buffalo State College
Robert Moses and the Highway That Never Was
Carla Delatte, Staten Island Museum
Comment: Eric Roth, Orange County Community College
804 Civil Rights II
The Civil Rights Movement in Niagara Falls
Michael Boston, SUNY Brockport
Becoming a School Culture of Poverty: Erasmus Hall High School, 1950–94
Timothy A. Lent, Brooklyn College
Segregation Tug of War: Development and Disintegration of a Segregated School System
Faherty Nielsen, Binghamton University
Comment: Julian Hayter, Niagara University
12:00–1:30 Lunch and Wendell Tripp Lecture
A Sorry Tale: Natives, Settlers, and Salmon in Upstate New York, 1800-1900
Karim Tiro, Xavier University Lunch cost: $17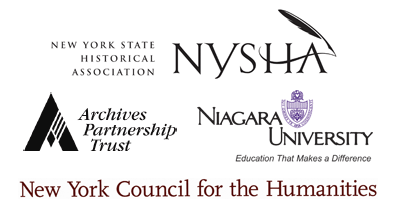 updated 16 May 2012
---
NY History Net Home | Contact | Search | Historians | Kids | Resources
© New York History Net 1996-2012