2009 Conference on New York State History
The 30th Conference on New York State History
SUNY Plattsburgh
THURSDAY, JUNE 4
8:30am-5:00pm Registration
9:00am-2:00pm Creating a Community History
Sponsored by the Upstate History Alliance (advance registration required)
Stephanie Lehner, coordinator
The documentation of a community's history is vital to the presentation of its story for future generations. Each person, each story, and each business lends itself to the greater story of New York State and beyond. Participants in this workshop will hear from community history leaders to gain the basics they need to develop their own community history projects and will explore examples of how to engage the community in recording and sharing its history.
This workshop has been developed by the Upstate History Alliance, a non-profit service organization that works with museums and historical societies in New York State, and is supported by the Documentary Heritage Program, a statewide program of the New York State Archives, which strives to identify historical records and make them available to the public.
Participants will include:
Virginia Westbrook, The Virginia Company
Ellen McHale, New York Folklore Society
Andy Flynn, Writer, Adirondack Attic
Angiel Snye, Adirondack Museum
Rich Strum, Fort Ticonderoga
2:00-5:00pm Afternoon Workshops
Open to registrants of the Community History workshop and of the conference itself.
Certificates of participation will be available at registration.
2:00-2:50pm
101 The Quadricentennial Newspaper-in-Education Project
Mary Miller, New York Newspaper Publishers Association
Robert Bullock, New York State Archives Partnership Trust
102 Twentieth and Twenty-First Century Documentation
Bruce Dearstyne, Educator
Robert Arnold, College of St. Rose
3:00-3:50pm
201 Grants Workshop
Jane McNamara, New York Council on the Humanities
202 Internet Sources and Methods
Blake Bell, Pelham Town Historian
4:00-4:50pm
301 Simple Tricks to Turn Your PowerPoint Presentation from Dreary to Dazzling
Michael Miscione, Manhattan Borough Historian
302 Research Resources in the North Country
Jim Folts, New York State Archives
Debra Kimok, SUNY Plattsburgh
Jerold Pepper, Adirondack Museum
5:00-7:30pm Dinner (on your own)
7:30pm Continental Engagement: U.S. – Canada Relationships, 1609 to Present
Sponsored by the Center for the Study of Canada, SUNY Plattsburgh
Moderator: Christopher Kirkey, SUNY Plattsburgh
Panelists: Brett Rushforth, College of William and Mary
Donald Fyson, Université Laval
Andrew Holman, Bridgewater State College
Jarrett Rudy, McGill University
FRIDAY, JUNE 5
7:00am-6:00pm Registration
8:00am-6:00pm Exhibits
8:00-8:50am Plenary Session

Do We Need a Vision for New York State's History?
Bruce W. Dearstyne, moderator
Christine Ward, New York State Archives
Robert Weible, New York State Historian
Garet Livermore, New York State Historical Association
9:00-10:30am Concurrent Sessions
401 Celebrations
The Presence of the Past: The Evolution of a Heritage Tourism Landscape in the Champlain Valley
Sylvie Beaudreau, SUNY Plattsburgh
Reasons to Celebrate: New York and the Opening of the Erie Canal
Caroline Fuchs, St. John's University
The New York City Golden Jubilee of 1948
Michael Miscione, Manhattan Borough Historian
● Comment: Edward Knoblauch, College of St. Rose
402 Disasters
The Great Easter "Midwestern" Flood in New York State, 1913
Trudy E. Bell, Independent Scholar
The Astor Place Opera House Riot, 1849
John W. Fried, Columbia University
The Politics of Moral Outrage: Rethinking the Triangle Fire of 1911
Robert W. Whalen, Queens University of Charlotte
● Comment: Tim Kneeland, Nazareth College
403 Early Influences
Ariaantje Coeymans, Enigmatic Dutch Colonial Woman
Karen Hess, Independent Scholar
Rethinking the Ethnic Identity of the "Huguenots" of New Paltz
Eric J, Roth, Historic Huguenot Street
Town Meetings in New York
Mary Robinson Sive, Independent Scholar
● Comment: Nicholas Westbrook, Fort Ticonderoga (emeritus)
10:30—11:00am Break
11:00am-12:30pm Concurrent Sessions
501 Armed Actions
The Niagara Frontier Defense League's Patriotic War on Organized Labor, 1917-19
John S. Olszowka, Mercyhurst College
"Shooting Folks at Night": The Jacob Hanson Case and the Prohibition Repeal Movement on the Niagara Frontier
William H. Siener, Independent Scholar
The Gun in Urban Unrest in Nineteenth-Century New York
Eric Wakin, Columbia University
● Comment: Thomas E. Leary, Youngstown State College
502 Outsider Women
The Strange Breach-of-Promise Case of George Barnard vs. Mary Power
Benjamin P. Feldman
"Madame Jumel Outshone by a Negro: Race, Gender, and Social Pretension in Antebellum Saratoga Springs
Jane Lancaster, Rhode Island School of Design
Black Cleopatra: Hannah Elias and the Murder of "The Man Who Invented New York"
Jon-Christian Suggs, CUNY (emeritus)
● Comment: Melanie Gustafson, University of Vermont
503 Religion
"Start Your Own Religion": New York State's Radical Acid Churches
Devin R. Lander, Independent Scholar
Creating the Cultured Catholic at the Catholic Summer School of America, 1893-1941
Raymond A. Patterson, Saint Michael's College
The "Colored" Mission Chapels of the Episcopal Church
Jean Ballard Terepka, St. Michael's Church
● Comment: Richard Schaefer, SUNY Plattsburgh
12:30-1:45pm Lunch
Program: Bernard Ouimet, "Un Canadien Errant"
2:00-3:30pm Concurrent Sessions
601 First Peoples
A Lily Among Thorns: The Mohawk Repatriation of Káteri Tekahkwí:tha
Darren Bonaparte, Independent Scholar
They Hear His Voice: The Long Odyssey of Peter Wilson, Cayuga Physician and Orator
Mary Hess, Hobart and William Smith Colleges
The Oneida Lace Makers: A Lasting Influence of the American Indian Reform Movement
Patricia Matteson, Independent Scholar
● Comment: Lawrence Hauptman, SUNY New Paltz
602 Canals
The Erie's Forgotten Little Sister
Jessica DuLong, Author
Sources of the Original and Enlarged Erie Canals' Building Stone
Mariana Rhoades, St. John Fisher College
Researching the Feeder Canal, Part of Glens Falls' Invisible History
Erica Wolfe Burke, Crandall Public Library
● Comment: Susan Ouellette, St. Michael's College
603 Historic Preservation I
The Rededication of the Prison Ship Martyrs Monument
Dan Abatelli, Fort Greene Conservancy
Revolutionary Landscape: Roger Morris Park
Erin K. Elto and Camilla Huey, Roger Morris Park
Visions of Permanence on the City's Edge: Fort Tryon, 1901-31
Adam Zalma, Rutgers University
● Comment: Eric Roth, Historic Huguenot Street
3:30-4:00pm Break
4:00-5:30pm Concurrent Sessions
701 Industry
The History of Sub-Aqueous Tunneling in New York City
Andrew Cushing, Ove Arup and Partners and Nikolas Sokol, City Reliquary Museum
The Cornell Iron Works and the New York Iron Industry
Katharine C. Gorka, Independent Scholar
● Comment: Robert W. Arnold, College of St. Rose
702 Legal and Political History
The Early Legal Career of Elihu Root
Michael Allsep, Air Command and Staff College, Maxwell AFB
Testing Suffrage: Literacy and the Right to Vote in New York, 1915-75
Ari Ruben, Harvard University
Religion and Diplomacy in the 1969 N.Y.C. Mayoral Election
Jeffrey F. Taffet, U.S. Merchant Marine Academy
● Comment: Peter Eisenstadt, Independent Scholar
703 Historic Preservation II
Restoring Hamilton's Home to a Country Setting in Urban Manhattan
Stephen Spaulding, National Park Service
A Landscape Design Plan for the John Bowne Homestead, Flushing
Joseph Disponzio, New York City Department of Parks and Recreation
● Comment: Robert M. Toole, Landscape Architect
5:45-6:30pm Reception
Burke Gallery, Fine Arts Building
6:30pm Dinner
8:00pm Film Preview: "Dead Reckoning: Champlain in America"
A behind-the-scenes look at the production of this documentary, a one-hour television program which will be an historically accurate, fully animated documentary focusing on Champlain's years of exploration, 1603-1616, and his successful adaptation to the ways of the Amerindian people, who taught him how to explore and survive in the wilds of North America. Mountain Lake PBS will screen a preview of the documentary, followed by a discussion with Executive Producer Colin Powers, Producer/Writer Frank Christopher and Director Marc Hall.
8:30 The Wendell Tripp Lecture
David Hackett Fischer, Brandeis University
"A Frenchman in New York: Champlain Among the Mohawk in 1609"
SATURDAY, JUNE 6
8:00-11:00am Registration
8:30-10:00am Concurrent Sessions
801 Military History
New Yorkers at the Battle of Bennington
Michael P. Gabriel, Kutztown University
Unlocking the Material Culture of the Magasins du Roi
Steve Delisle, Independent Scholar
Re-examining Champlain's 1609 Mohawk Encounter
Thomas L. Nesbitt, Independent Scholar
● Comment: Paul Huey, NYS Office of Parks, Recreation, and Historic Preservation
802 African Americans
John Brown's Body: Remembering Abolition at North Elba
Jesse J. Gant, University of Wisconsin
The Champlain Valley's Underground Railroad Canadian Connections
Don Papson, North Country Underground Railroad Historical Association
New York State's Radical Black Abolitionists
Alan Singer, Hofstra University
● Comment: Amy Godine, Independent Scholar
803 Knickerbocker's History of New York: The First Two Hundred Years
Elizabeth L. Bradley, The New York Public Library, chair
Panelists to be announced.
10:00-10:30am Break
10:30am-12:00pm Concurrent Sessions
901 Broadcasting New York State History
A Look Back at Radio Documentaries on New York State History
Gerald Zahavi, University at Albany SUNY
Producing "The First Fireside Chats," a radio documentary
Geoffrey Storm, University at Albany SUNY

902 Three Approaches to Revealing the "Humanity Behind the Hardware"
Jessica Williams, Intrepid Sea, Air and Space Museum
Eric Boehm, Intrepid Sea, Air and Space Museum
Sheri J. Levinsky, Intrepid Sea, Air and Space Museum
● Comment: Thomas Eldred, Cayuga County Historian (retired)
903 Sundown Towns in New York
James W. Loewen, Catholic University of America
904 The St. Lawrence Seaway at Fifty
Claire Parham, Siena College
12:00-1:15pm Lunch
Program: William E. Wander, McSorley's Old Ale House, "The Beefsteak Party: A New York City Original"
1:30-5:00pm Afternoon Activities
Bus Tour to Chazy
One conference organized tour will take place on Saturday afternoon. It will depart at 1:30 from Ruger Street directly in front of the Angell Center
The tour will visit the William H. Miner Agricultural Research Institute (1951), an experimental farm, with particular attention to its historical exhibit, and the Alice T. Miner Colonial Collection (1924), a museum of the Colonial Revival as interpreted by the wife of the Institute's founder. A chartered bus will take up to 43 participants. This tour cannot run without a minimum number of participants. If it is cancelled, you will receive notification by one week before the conference, and a refund will be mailed to you after its conclusion.
Alternate Options
In addition to the organized tour, Plattsburgh and the general vicinity offer on number of options for historical tours on your own.
• All day Saturday Plattsburgh museums are open with free admission to mark Museum Day. A list with directions will be in your registration packet.
• The Spirit of Ethan Allen II (a cruise boat on Lake Champlain) departs from the foot of College Street, Burlington twice each afternoon. Visit http://www.soea.com/ for more details.
• Fort Ticonderoga is open until 5 PM and is offering half-price admission to anyone with a conference badge.
• Plattsburgh is only 20 miles from the Canadian border and only 64 miles from Montreal. Consider an afternoon tour of the old city, or extend your stay in the area and make a weekend of it.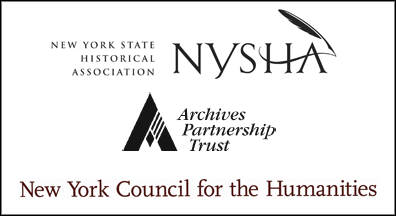 ---
NY History Net Home | Contact | Search | Historians | Kids | Resources
© New York History Net 1996-2009
The 30th Conference on New York State History • June 4–6, 2009 • SUNY Plattsburgh