The 27th Conference on New York State History
In conjunction with
The Association of Public Historians of New York State
Sponsored by
The Herbert H. Lehman Center for American History, Columbia University
New York State Archives Partnership Trust
Sessions on historical methods and sources for public historians are indicated by this symbol:


All conference participants are welcome at these sessions.
Officially-appointed public historians are designated by this symbol: †
---
---
• Conference Program as Adobe Acrobat
• Conference Program as MS Word document
• Registration form (Adobe Acrobat necessary)
• Accommodations
---
• Chartered Bus Service from Saratoga and Rensselaer sponsored by Region V of APHNYS (Capitol Region)
---
Thursday, June 1
---
Registration 9–9 Lehman Center
---
10-5 Tours on your own
• New-York Historical Society
• Museum of the City of New York
• New York Genealogical and Biographical Society
Tour information and directions at registration.
Please indicate your interest on the registration form.
---
3:30 – 5:30 Afternoon Sessions
101 Biography
HERBERT H. LEHMAN
• Duane Tananbaum, Lehman College CUNY
ANDREW CARNEGIE
• David Nasaw, The Graduate Center CUNY
JOSEPH SMITH
• Richard Bushman, Columbia University
HENRY LUCE
• Alan Brinkley, Columbia University
Moderator/commentator: Josh Freeman, Queens College
102 The Lower East Side
Moderator: Laurie Tobias Cohen, Lower East Side Jewish Conservancy
THE LOWER EAST SIDE FROM THE GREAT JEWISH MIGRATION TO THE PRESENT
• Marcia Haddad-Ikonomopoulos, Museum Director of Kehila Kedosha Janina
• Holly Kaye, Independent Scholar
AN URBAN EXPERIENCE: NEW YORK CITY'S LOWER EAST SIDE, 1880-1920
• William L. Crozier, St. Mary's University (Minn.)
Commentator: Joyce Mendelsohn, New York City Historic House Trust
103 (was 701) British New York
'I WANT A PACKET': COMMUNICATIONS, GOVERNMENT, AND NEW YORK'S AMBIGUOUS CAREER AS THE BRITISH HEADQUARTERS OF AMERICA
• Rohit T. Aggarwala, Independent Scholar
THE NIGHT THE YANKEES BURNED BROADWAY: THE DESTRUCTION OF NEW YORK CITY IN 1776
• Benjamin L. Carp, University of Edinburgh
CASUALTIES OF WAR: THE MILITARY OCCUPATION OF SUFFOLK COUNTY, 1776-83
• John Staudt, Hofstra University
Moderator/commentator: Christine S. Patrick, George Washington Papers
104 Teaching U.S. History Through Local Resources
• Stacy P. Draper, Rensselaer County Historical Society
• Nancy Iannucci, Emma Willard School
• Robert J. Naeher, Emma Willard School
Moderator/commentator: Gloria Sesso, Patchogue-Medford School District
105 Association of Public Historians of New York State Board Meeting


106 (was 103) New York State in the American Revolution
NEW YORK OVERSHADOWED
• Barnet Schecter, Independent Scholar
NATHAN HALE: THE POWER OF WORDS
• Richard E. Mooney, Independent Scholar
THE PRISONERS OF NEW YORK
• Edwin G. Burrows, Brooklyn College
THE BATTLES OF BROOKLYN
• William Parry, Hunter College
ANDREW H. GREEN AND NEW YORK'S EMERGING PRESERVATION MOVEMENT
• Michael Miscione, Independent Scholar
Moderator/commentator: Thomas Wermuth, Marist College
---
5:30 - 7:30
Walking Tour of Morningside Heights
• Andrew Dolkart, Columbia University
---
7:30 - 9:00
APHNYS Membership Meeting
---
Friday, June 2
Registration opens 8 at Faculty House
8-6 Exhibits Faculty Club
---
9:00 Plenary Session - Welcome
• Field Horne, Conference Chair
• Lisa Keller, Conference Co-Chair
• Carol McKenna, President, APHNYS
• Carole Huxley, Deputy Commissioner, NYS Office of Cultural Education
Keynote talk:
"BUT IT WAS IN NEW YORK" by Kenneth T. Jackson, Department of History, Columbia University
---
10:00 – 10:15 Break
---
10:15 – 11:45 Late Morning Sessions
201 Poverty
THE 'REVOLUTION' IN POVERTY: THE PAUPERS OF ALBANY, 1784-1800
• Tricia Barbagallo, University at Albany
BEING POOR IN NEW PALTZ, 1678-1828
• Eric Roth, Huguenot Historical Society
THE ERIE RAIL ROAD AND THE ECONOMIC IMPACT OF EMIGRANT PAUPERS IN CHAUTAUQUA COUNTY
• † Michelle Henry, Chautauqua County Historian and †Pam Brown, Panama Village Historian
Moderator/commentator: Claudia Bushman, Columbia University
202 The New Deal
THE GERMAN AMERICAN BUND AND CAMP SIEGFRIED
• Marvin D. Miller, Suffolk County Community College
'SCHOOLS FOR WAR': AMERICAN CHILDREN AND WORLD WAR II
• Lisa L. Ossian, Des Moines Area Community College
'LOW BRIDGE' TO NO BRIDGE: THE TERA AND THE ERIE CANAL AT ROME, 1931-34
• Anne E. Mosher, The Maxwell School at Syracuse University
Moderator/commentator: Peter Eisenstadt
203 Newspapers
PARTY CRASHERS: NEWSPAPER COVERAGE OF THE NEW YORK TEA PARTY
• Michael E. Neagle, University of Connecticut
THE 'FOLK SCARE': CULTURAL SPACE AND THE VILLAGE VOICE'S MUSIC JOURNALISM, 1955-65
• Devon Powers, New York University
LEADERS NOT LAGGARDS: TECHNOLOGY AND NEW YORK CITY NEWSPAPERS, 1830-1930
• Thorin R. Tritter, Princeton University
Moderator/commentator: Evan Cornog, Columbia University
204 Women and Business
THE BUSINESS OF BEAUTY: HARRIET H. AYER'S NEW YORK CAREER
• Melanie Gustafson, University of Vermont
MRS. AYER'S WORLD: AMERICA'S FIRST WOMEN'S PAGE EDITOR
• Katina Jones, Independent Scholar
COURT CHALLENGES FACED BY U.S. BUSINESSWOMEN IN THE NINETEENTH CENTURY
• Susan M. Yohn, Hofstra University
Moderator/commentator: Nancy Woloch, Barnard College
205 What Price History: An Inside View of Museums and Historical Societies: Roundtable Discussion
• Paula Mayo, South Street Seaport Museum
• Sarah Henry, Museum of the City of New York
• Gary Hermalyn, Bronx County Historical Society
• Steve Elliott, New York State Historical Association
Moderator/commentator: Lisa Keller, Purchase College, SUNY
206 New Historians: Everything You Need to Know
• † Marilyn J. Van Dyke, Queensbury Town Historian
---
11:45 – 1:00 Lunch (on your own)
---
1:00 – 2:30 Early Afternoon Sessions
301 Cultural Conflict in Progressive-Era New York City
BATHING SUITS AND THE NEGOTIATION OF SOCIAL CLASS AT CONEY ISLAND, 1873-1914
• Frances Davey, University of Delaware
NEW YORK AND THE ORIGINS OF THE CREATION/EVOLUTION CONTROVERSY
• Brian Regal, TCI College of Technology
SLUMMERS' VISION: AN EXPLORATION OF SLUMMING ENCOUNTERS ON THE BOWERY
• Donald R. Schels, Columbia University
Moderator/commentator: Betsy Blackmar, Columbia University
302 The Performing Arts in New York City
THOMAS B. MOTT'S SONGBOOK
• Paul Mercer, New York State Library
ROCKING: AT THE ROOTS OF HIP HOP DANCE
• MiRi Park, Columbia University
DARK DAYS: THE DECENTRALIZATION OF NEW YORK CITY'S THEATER DISTRICT IN THE 1970s
• Timothy R. White, Columbia University
Moderator/commentator: Lynn Garafola, Barnard College
303 John Jay, His Family and Circle
QUARANTINE: GOV. JAY CONFRONTS THE YELLOW FEVER THREAT
• Jennifer E. Steenshorne, Papers of John Jay
SECRECY, SECURITY, AND DUE PROCESS: JOHN JAY AND HOMELAND SECURITY
• Elizabeth M. Nuxoll, Papers of John Jay
NEW YORK AND THE MAKING OF U.S. FOREIGN POLICY, 1774-1804
• Mary A. Y. Gallagher, Papers of John Jay
Moderator/commentator: Herb Sloan, Barnard College
304 Infrastructure in the Nineteenth Century
J. LLOYD HAIGH: THE THIEF WHO HELPED BUILD THE BROOKLYN BRIDGE
• John W. Fried, Columbia University
CROTON WATER AND THE MANHATTAN LANDMARKS
• Meisha Hunter, New York City Landmarks Commission
DOWN THE TUBES: JOHN E. MILHOLLAND AND NEW YORK CITY'S PNEUMATIC TUBES SYSTEM
• Linda J. Lumsden, Western Kentucky University
Moderator/commentator: Owen Gutfreund, Barnard College
305 New Historians: Preserving Your Document Holdings
• Ray LaFever, New York State Archives
2:30 – 2:45 Break
401 The Nineteen Thirties
PROMISED LAND: ALBANY'S RAPP ROAD COMMUNITY
• Jennifer Lemak, New York State Museum
FROM HYDE PARK TO HARLEM: FDR AND AFRICAN AMERICANS IN NEW YORK CITY
• Durahn Taylor, Pace University Pleasantville
WGY AND FDR: THE ORIGINS OF THE FIRESIDE CHATS
• Geoffrey Storm, Utica College
Moderator/commentator: Tom Lewis, Skidmore College
402 Hudson River Towns: Roundtable Discussion
Chair: Kenneth T. Jackson, Columbia University
• Stuart Blumin, Cornell University
• Mark Carnes, Barnard College
• Clyde Griffen, Vassar College
• David Schuyler, Franklin and Marshall College
403 Perspectives on Preservation: Panel Discussion
Moderator: Jeffrey A. Kroessler, John Jay College CUNY
• Charla Bolton, Society for the Preservation of Long Island Antiquities
• Lisa Kersavage, Municipal Arts Society
• Simeon Bankhoff, Historic Districts Council
404 Publishing Community History: Panel Discussion
Moderator: Field Horne, Kiskatom Publishing
• Jim Eyre, Columbia County Historical Society
• Katie Hite, Westchester County Historical Society
• Jeanne Winston Adler, Washington County Historical Society
• †Ruth Rosenberg-Naparsteck, Rochester City Historian
• Debbie Allen, Black Dome Press
• Mary Taylor, Donning Publishers
• Judy Hohmann, Archives Partnership Trust
405 Latino/a History
MIGRATION, POWER RELATIONS, AND PROTEST: PUERTO RICAN FARM WORKERS IN WESTERN NEW YORK, 1960s
• Ismael Garcia Colon, Center for Puerto Rican Studies, Hunter College
THE SMART PUBLIC RELATIONS OF THE CUBAN JUNTA IN NEW YORK CITY 1895-98
• Margarita Garcia-Estevez, Montclair State University
INDUSTRIAL WORK AND PUERTO RICAN NATIONAL IDENTITY IN NEW YORK CITY, 1930-65
• Aldo Lauria Santiago, Rutgers University
Moderator/commentator: Clara Rodriguez, Fordham University
---
4:15 - 4:30 Break
---
4:30 – 6:00 Late Afternoon Sessions
501 Borderlands
IMPERIAL COMMONS: THE POLITICS OF LAND IN NORTHEASTERN NEW YORK, 1760-70
• Michael G. Gunther, Lehigh University
A LAWYER'S ANALYSIS OF BURGOYNE'S 'WILDERNESS': THE SARATOGA TAX DISTRICT
• Leslie B. Potter, Independent Scholar
Moderator/commentator: Edward Knoblauch, College of St. Rose
502 The Seventies and Eighties
THE ERA BATTLE IN NEW YORK AND THE DEVELOPMENT OF A CONSERVATIVE WOMEN'S NETWORK
• Nancy Baker, Harvard University
'SHUT IT DOWN!': THE STUDENT STRIKE AT SYRACUSE UNIVERSITY, MAY 1970
• James Eichsteadt, Syracuse University
CHANGING UNDERSTANDING OF AIDS AND THE SOCIAL GEOGRAPHY OF LOWER MANHATTAN
• Tamar Carroll, University of Michigan
Moderator/commentator: Ellen Baker, Columbia University
503 Women in the Performing Arts
ACTRESSES, WORK AND FAMILY: MARY DEVLIN AND CORDELIA HOWARD
• Nan Mullenneaux, SUNY Albany
FIVE PROGRESSIVE NEW YORK WOMEN: PERFORMERS OF THE 1920S
• Alan R. Ginsberg, Columbia University
Moderator/commentator: Joshua Brown, The Graduate Center, CUNY
504 Historians' Network: Panel Discussion
Moderator: †Celedonia Jones, Manhattan Borough Historian
• †Stanley Cogan, Queens Borough Historian
• †Richard Dickenson, Staten Island Borough Historian
• John Manbeck, former Brooklyn Borough Historian
• †Lloyd Ultan, Bronx Borough Historian
505 Using Civil Court Records
• Jim Folts, New York State Archives
506 New York State Newspaper Project
• Mary Beth Sullivan, Albany County Hall of Records
507 New Directions in African American History
• Craig Wilder, Dartmouth College
• Mark Naison, Fordham University
---
6:00 Cocktails: Faculty House
---
7:00 Dinner: Faculty House
Welcome: Celedonia Jones, Manhattan Borough Historian
Introducing: Scott Stringer, Manhattan Borough President
Musical presentation: "Albany's Euterpean Club: Cultivation of Improvement in Musical Skill and Taste"
Ann-Marie Barker Schwartz and the Musicians of Ma'alwyck
---
9:00 The Wendell Tripp Lecture
Dr. Alan Taylor, University of California at Davis
"Sir William Johnson's Land: The Cultures of Property on a Colonial Frontier"
Introduced by Christine Ward, State Archivist
---
Saturday June 3
---
8:30 – 10:00 Early Morning Sessions
601 Malcolm X and the Nation of Islam in New York City
A TIME FOR MARTYRS: RESTRUCTURING MALCOLM X'S ASSASSINATION
• Manning Marable, Columbia University
THE NATION OF ISLAM MOSQUE NO. 7, 1955-75
• Zaheer Ali, Columbia University
ST. MALCOLM'S RELICS: A STUDY OF ARTIFACTS
• Elizabeth Mazucci, Columbia University
Moderator/commentator: Donald Taylor, Columbia University
602 Antebellum Development
PROGRESS AND PAIN: THE MAIN CONCERNS OF ORDINARY RURAL NEW YORKERS IN THE ANTEBELLUM ERA
• Nicholas Marshall, Marist College
THE ENLIGHTENED LADIES OF BUTTERNUTS, 1835-50
• †Leigh C. Eckmair, Butternuts Town Historian
Moderator/commentator: Amanda Frisken, SUNY College at Old Westbury
603 Origins of Government on Eastern Long Island
THE LYON GARDINER DOCUMENTS: A CRITICAL ANALYSIS
• †Sherrill Foster, East Hampton Town Historian
THE SOUTHAMPTON COMMON LANDS: A CASE STUDY
• Steve Boerner, Independent Scholar
THE AUTONOMOUS COMMONWEALTH: SOUTHAMPTON, 1640-44
• John A. Strong, Long Island University (emeritus)
Moderator/commentator: Natalie Naylor, Hofstra University (emerita)
604 Celebrating History: Hudson, Champlain, and Fulton

THE 1909 HUDSON-FULTON CELEBRATION
• Roger Panetta, Marymount College
THE 1909 CHAMPLAIN TERCENTENARY
• Richard Strum, Fort Ticonderoga
THE 1959 YEAR OF HISTORY
• Edward Knoblauch, College of St. Rose
THE 2009 QUADRICENTENNIAL
• Barbara Fratianni, Hudson-Fulton-Champlain Quadricentennial Commission
Moderator/commentator: David Schuyler, Franklin and Marshall College
605 Kids, Criminals, and Conundrums: Mining Archives for New York City History
• Kenneth Cobb, Assistant Commissioner, Department of Records and Information Services, City of New York
• David Ment, Curator, NYC Board of Education Collection, Municipal Archives
• Leonora Gidland, Director, Municipal Archives
---
10:00 – 10:15 Break
---
10:15 – 12:15 Late Morning Sessions
701 British New York has been moved to Thursday afternoon session 103
702 The Suburb
THE PELHAM MANOR AND HUGUENOT HEIGHTS ASSOC.: A FAILED RAILROAD SUBURB EFFORT
• †Blake A. Bell, Pelham Town Historian
THE GOOD, BAD AND UGLY OF GREAT NECK PLAZA: INTERPRETING COMMUNITY HISTORY
• †Nancy Solomon, Great Neck Plaza Village Historian
CONSTRUCTING AND DE-CONSTRUCTING A MODEL CITY: DE-INDUSTRIALIZATION AND ENVIRONMENTAL POLITICS ON THE NIAGARA FRONTIER, 1943-2000
• Andrew Jenks, Niagara University
Moderator/commentator: TBA
703 Fresh Approaches to the Iroquois Experience
• G. Peter Jemison, Ganondagan State Historic Site
• Doug George Kanentiio, Independent Scholar
• Alan Michelson, Rhode Island School of Design
• Robert Spiegelman, Independent Scholar
Moderator/commentator: Mark A. Nicholas, University of Saint Thomas
704 Mavericks in Women's Higher Education
BARNARD COLLEGE WOMEN AND CONSCIOUSNESS RAISING: SHAPING SOCIAL ACTIVISM, 1968-77
• Antonia Abram, Teachers College
BARNARD'S STRATEGY FOR WOMEN'S PROFESSIONAL PREPARATION, 1911-31
• Bethany Parliament, Teachers College
F.A.B. BARNARD AND MALE MEDICAL OPINIONS ON WOMEN'S HIGHER EDUCATION
• Julie Schell, Teachers College
THE DEMISE OF IN LOCO PARENTIS AT FORDHAM
• Robin Stayvas, Teachers College
Moderator/commentator: Patricia Palmieri, Teachers College
705 Planning and Operating Historic Tours: Panel Discussion

SHOWING OFF THE TOWN: CREATING A SUCCESSFUL URBAN WALKING TOUR
• James W. Darlington, SUNY Cortland
REVOLUTIONARY WAR BATTLE TRAILS IN NEW YORK STATE
• †Raymond C. Houghton, Bethlehem Town Historian
THE BIG ONION TOURS OF THE BIG APPLE
• Seth Kamil, President, Big Onion Tours
---
1:15-5:15 Bus tour of Harlem and the South Bronx
• Guide: Kenneth T. Jackson, Columbia University
---
Walking tours
All require a minimum number; please indicate first and second choices on your registration.
For full description of the tours, visit www.bigonion.com.
• Central Park
• Historic Lower Manhattan
• Immigrant New York
• New York Discovered
Accommodations
On-site housing will be provided in Carman Hall, 545 West 116th Street (at Broadway), a 13-story modern high-rise residence. Fully renovated in 2001, it has central air conditioning and is non-smoking. Each room is furnished with two twin beds and is connected to a private or semi-private bathroom. For a more deluxe lodging, you may contact the Hotel Lucerne, 201 West 79th Street, 1-800-305-0991 ($280 and up).
For less expensive dorm-style housing, try Hostelling International New York, 891 Amsterdam Avenue (at 103rd Street), 1-212-932-2300 ($27 and up).
Conference Facilities
Registration, exhibits, and sessions will be held in the Faculty House or the International Affairs Building; both buildings are in the block on the east side of Amsterdam Avenue between 116th and 118th Streets. (Note that room registration is in Carman Hall at Broadway and 114th Street.)
Conference Sites at Columbia University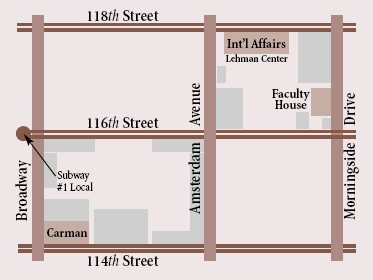 Getting There
Most upstate and Long Island travelers will reach Columbia University by way of Pennsylvania Station, about four miles to the south. If you use public transportation from Penn Station, take the #1 local train (only) to 116th Street. Metro North travelers can get out at the 125th Street Station, from which Columbia is a very short cab ride. If you drive, you can access a list of parking garages near campus at: http://www.columbia.edu/about_columbia/parking.html
Exhibits
As usual, the exhibits hall on Friday will be packed with publishers, book dealers, and organizations eager to tell you about their products or services.
Meals
Most meals will be on your own, as Columbia is located in a vibrant urban neighborhood with many restaurants; request list at registration. Mid-morning breaks at the conference will include light food and drink. The only plenary meal is the Friday dinner; there is limited availability due to the size of the room, and we recommend you reserve early.
Tours
In addition to the scheduled walking and bus tours, there are several dozen fascinating tours offered by Big Onion Tours. You may be able to join a scheduled Big Onion tour, or arrange for one on your own. Log on to www.bigonion.com.
2006 Conference Program Committee
Field Horne, Conference Chair
Robert Arnold, New York State Archives
Claudia Bushman, Columbia University
Owen Gutfreund, Barnard College
Kenneth T. Jackson, Columbia University
Celedonia Jones, Manhattan Borough Historian
Lisa Keller, Purchase College, SUNY
Edward H. Knoblauch, College of St. Rose
Daniel Nathan, Skidmore College
Natalie Naylor, Hofstra College (emerita)
Eric Roth, Huguenot Historical Society
David Schuyler, Franklin and Marshall College