___________________________________________________________
Resources on the Erie Canal

This web site, although devoted to the Erie Canal in general, focuses on the central portion of the canal from Palmyra (Lock 29) to Lockport (Locks 34 and 35), and particularly on the area in the vicinity of the City of Rochester.
___________________________________________________________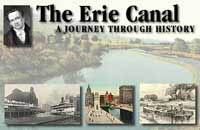 ePodunk, a site compiling information about tens of thousands of localities large and small, has created a multimedia tour of the Erie Canal. It combines songs, historic information, post cards, and panoramic photos. Students looking for an accessible overview of the building and significance of the canal should visit and view this site.
___________________________________________________________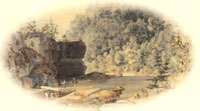 Union College presented a series of events, tours, lecture and exhibitions entitled "A Monument of Progress: Erie Canal, the 175th Anniversary" from September 4th through October 29th 2000.
The Erie Canal, J.W. Hill, 1831
(Union College permanent collection)
___________________________________________________________
Web sites
Erie Canal documentary - History channel television show that premiered August 14, 2000 featuring material from the NYS Archives.
Modern Marvels: The Erie Canal - the video may be purchased online.
Erie Canal Game - sold by Chatham Hill Games www.chathamhillgames.com
Erie Canal Records in the NYS Archives
Information from the NYS Canal System
Boating on the Erie Canal - by John Gearing.
Erie Canal Resources - collected by Syracuse Online.
University of Rochester History of the Erie Canal
Erie Canal Museum (Syracuse, NY) - founded in 1962, it is housed in the 1850 Weighlock Building, where canal boats were weighed during the days when they traveled through the center of Syracuse on the Erie Canal.
Erie Canal Village (Rome, NY) - 1840 to 1860 era re-created village is an outdoor living history museum located alongside a portion of the original Erie Canal. An 1840's horse-drawn packet boat provides rides on the historic canal section.
National Canal Museum (Easton, PA) - Hugh Moore Historical Park and Museums. Take a journey back in time to the early 1800's and experience what the world was like before railroads, highways and airplanes.