Historic Peterboro
---
Peterboro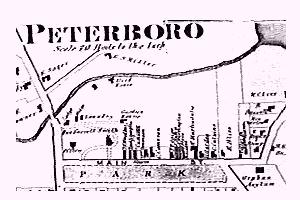 Named for its founder, Peterboro is located in the Town of Smithfield, in Madison County, NY. A map of the village circa 1875 shows the estate of Hon. Gerrit Smith, at the left (on Main Street) across the brook from the home of his grandson, G. S. Miller. Other buildings on the estate are visible on this map section. Also shown on the map is the Orphan Asylum (lower right), used until 1870 by the Evans Academy, and now the site of the Peterboro Area Museum. The Museum stands across the street from the building that once housed the Free Church of Peterboro, founded by Gerrit Smith in 1843.

Near the opposite end of the green stands the Smithfield Community Center, (pictured at left) which housed the Evans Academy after 1870. This was previously the Presbyterian Church, site of the first meeting of the New York Anti-Slavery Society in 1835 (see Gerrit Smith: Anti-Slavery Activity). In the middle of the Park stands a monument to Peterboro area soldiers who fought in the Civil War. Nearby the Community Center stands the Peterboro home of James Caleb Jackson, editor of several abolitionist newspapers and co-founder of the Glen Haven Water Cure in Skaneateles, and the Our Home Water Cure in Dansville, NY.
The Estate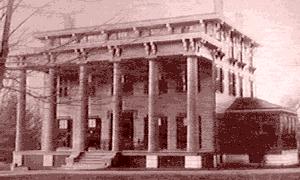 The Smith Estate once consisted of several buildings, including the Mansion, (East View) a barn, a laundry, the "Bird House" built by Greene C. Smith, a Lodge, and the so-called Cottage Across the Brook, originally the home of Elizabeth Smith and Charles Dudley Miller. The Mansion was destroyed in a fire in 1936, and was at that time the home of Gerrit Smith Miller. The Cottage and the Lodge are now privately owned homes. Originally a plain structure with little ornamentation, the mansion was renovated by Gerrit Smith to add flourishes to both the house and grounds. A composite (Photo) illustrating detail of the cast iron fence gives a sense of the former glory.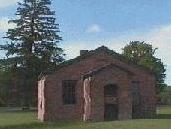 The Land Office used by Peter and Gerrit Smith (pictured right) still stands, and has been placed on the National Register of Historic Places. The property surrounding the land office, including the site where the Mansion once stood, is now owned by the Town of Smithfield. The land office is used to house exhibits, and the grounds are used as a camp site for re-enactors during the Civil War Days held annually in June.
A visitor's description of the estate was provided in a reminiscence of Gerrit Smith written at the time of his death.
The Grove Cottage
On at least two occasions Gerrit Smith and his family vacated the Mansion. One was while the building was undergoing renovations, and also in 1843, while the family was struggling financially. During these periods the Smiths occupied a smaller home on the outskirts of the village. This home (Photo) is now owned by the Aber family of Morrisville NY.
---