Jermain Wesley Loguen
---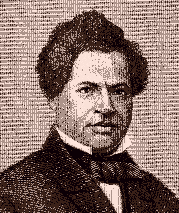 Jermain Wesley Loguen was born into slavery in Tennesee. He escaped to St. Catherine's Ontario, and later went to work in Rochester. After receiving his religious (and abolitionist) education at the Oneida Institute, in Whitesboro, NY, he became an Elder, Minister, and ultimately Bishop of the African Methodist Episcopal Zion Church.
As Stationmaster of the underground railroad in Syracuse, Loguen published in the local newspapers his calls for aid to fugitives from slavery, as well as an acounting of how he spent the money received. His was reported to be the most openly operated station in the state, if not the country.
The University of Michigan Digital Library provides a searchable version of Loguen's autobiography, which was edited by abolitionist John Thomas.
An excellent book on Loguen, To Set the Captives Free has been published by Carol M. Hunter, now of Earlham College in Indiana. NY History Net is exploring the development of a full-blown Loguen website. Suggestions for content are welcome at Info@NYHistory.com.
---